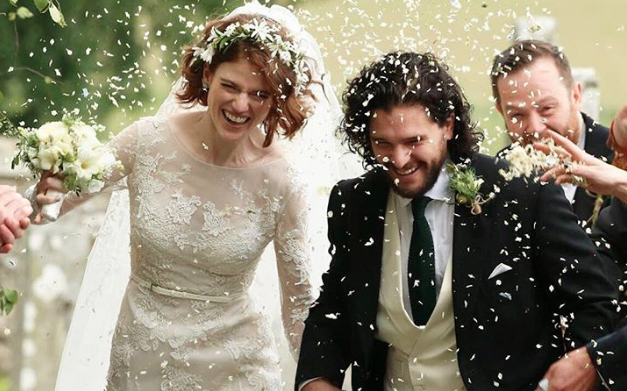 Oggi è il gran giorno. Kit Harington e Rose Leslie si sono sposati in una cerimonia al castello Wardhill, la casa dell'antico Clan Leslie, di cui Rose fa parte. Suo padre, Alexander Leslie, è il capo del Clan.
Ad accompagnare la sposa all'altare c'era proprio lui, Alexander.
Molti membri del cast di Game of Thrones, tra cui Emilia Clarke, Sophie Turner, Maisie Williams e Peter Dinklage erano presenti.
Un amore davvero forte quello tra Kit e Rose, che si sono ritrovati dopo un periodo di pausa.
In un'intervista a VOGUE,  Kit Harington, che interpreta Jon Snow in Game of Thrones, rivelò le circostanze in cui si innamorò della sua Rose:
"Le tre settimane in Islanda, mentre giravamo la seconda stagione, furono le mie preferite. Perché il posto è bellissimo, perché le luci del Nord sono magiche e perché è stato lì che mi sono innamorato."

"Se sei già attratto da qualcuno e questa persona interpreta il tuo interesse amoroso nello show, diventa davvero facile innamorarsi".
E anche la proposta è stata speciale e istintiva, Kit ha detto:
"Avevo dei piani a riguardo. Volevo posizionare delle luci in alcuni alberi e fare tutte queste cose romantiche, ma eravamo in campagna e sotto questo cielo notturno bellissimo e c'era questo falò, il vino rosso e ho fatto la proposta prima."
Facciamo i nostri migliori auguri alla coppia di sposi.